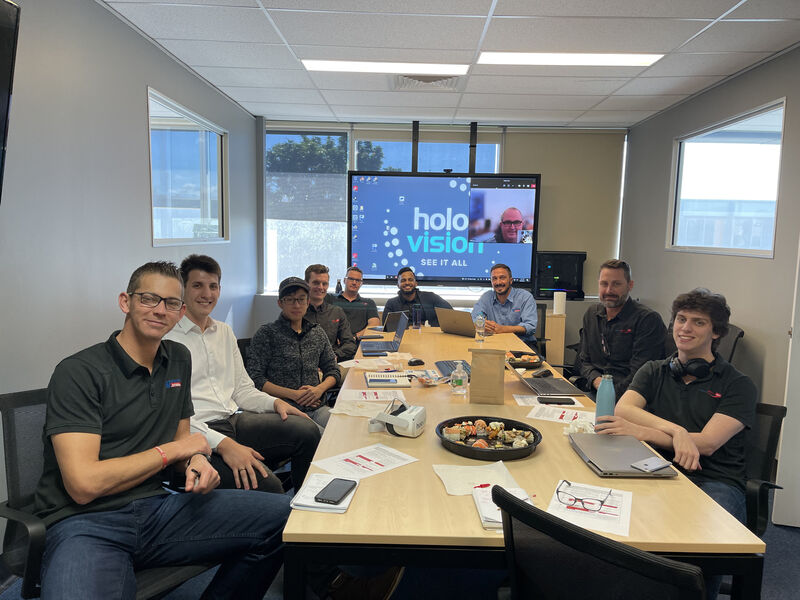 At Holovision, we partner and collaborate with several universities and VET providers to enable gamers and physicists, mechatronics and aerospace engineering students to have hands-on industry experience using the latest visualisation technologies. We mentor and give students access to industry real-life problems and encourage them to solve problems through our work-integrated learning program.
We partner with academic leaders and engage with UQ, QUT, TAFE Queensland, and Southern Cross University students. Our partnerships allow students to gain an understanding of our customer's challenges, apply their qualifications and academic knowledge to solve and create innovative solutions to complex problems within the construction, steel fabrication, mining and engineering sectors
Benefits for Students
Our Research and Development programs provide regular workshops designed to help develop students' problem-solving abilities and prepare them for future workplace scenarios by allowing them to work on real industry problems. Students are invited to join our weekly SCRUM meetings on Fridays where students are encouraged to use different Agile methodologies to further develop their problem-solving and teamwork skills.
These meetings are important for the students because they come together as a group to share and brainstorm ideas and can request resourcing needs so they continue with their R&D projects. We create an environment that allows students to share, ask questions, and debate to allow the team to develop the best outcomes, helping to promote teamwork. Our discussions also encourage students to take ownership of their problems and support each other towards a problem-solving approach for Holovision customers.
During the R&D scrums, our students are encouraged to come up with their own solutions with the guidance of Dr Vitor Bottazzi our Robotics Engineer.  Holovision supports the students to seek solutions by giving them access to the tools, skills, and knowledge they require.
Dr Vitor Bottazzi says "Our students are encouraged to ask questions at any time, but we try to let them work as independently as possible so they can develop the critical problem-solving skills needed in the engineering fields. We also have people on-site where the real cases are taking place so that we can quickly provide any additional resources requested by the students".
Benefits and Results for Holovision
Holovision has further developed its technologies by leveraging research and development opportunities by engaging with students and tertiary providers.  We are passionate about the innovative and continuously learning mindsets that are fostered in the university environment. We want to provide students with a place to apply their curiosity and fresh skills. Holovision aims to support advances in technology and digital skills for the next generation.
We continue to combine new skills, experts' knowledge and novel ideas to optimise solutions for industry problems. Our students are a wealth of knowledge and fresh eyes researching for solutions. We are always learning new ways of working, from our students, thereby helping Holovision to improve its business and services. The students that participate in our programs have access to the most up-to-date technology through our work-integrated learning program. This allows students to bring innovative ways of solving problems for Holovision while acquiring industry experience and getting ready for future work.
"One thing we say a lot at Holovision is that anyone can copy what we do today however they can't copy what we're doing tomorrow, and that is why we continue to invest in the younger workforce to help us develop new service offerings and value propositions."
 -Des Watkins, Managing Director
 To learn more about Holovision's student integrated work programs, please get in touch with us at info@holovision.com.au