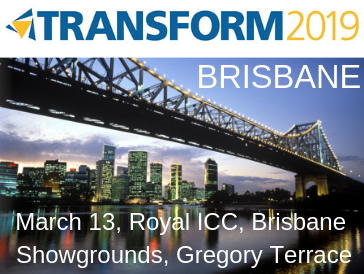 We will be presenting at Transform Conference 2019!
Held by BuildingPoint, Transform 2019 will be in Brisbane, Sydney & Melbourne in March.
We will be presenting our Trimble Dimensions 2018 presentation all the way from the US, which demonstrates the use of mixed reality in aiding design.
Our experts will take you through a case study example from a recently completed project. It demonstrates how the use of 3D technology at the design phase of a project can improve coordination and collaboration across project teams. Additionally, it will highlight the benefits of 3D Laser scanning, SketchUp, Trimble Connect and the Microsoft HoloLens.
If you are keen to come along, make sure to register (details below).
We hope to see you there!
About Transform 2019
"Bringing together industry-leading speakers and presentations, and providing networking opportunities that cannot be matched, Transform 2019 will be an invaluable opportunity for you and your business as we showcase new technology to key target audiences within the Building, Civil, Mining and Geospatial Industries." (Transform Conference, 2019)
Transform 2019 Venues
Brisbane
March 13, 2019
Royal ICC, Brisbane Showground, Gregory Terrace
Sydney
March 20, 2019
ICC, Darling Drive, Darling Harbour
Melbourne
March 26, 2019
Convention Centre, South Wharf